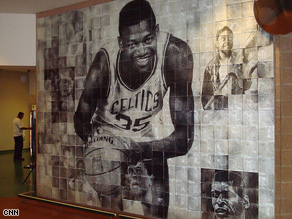 Artist Rufus B. Seder calls these "movies for a wall" Lifetiles. The Massachusetts artist invented the Lifetiles medium and is the only artist in the world using it. He has more than 30 Lifetiles installations around the globe.
Lifetiles don't use electricity, moving parts or tricky lighting -- just an elaborate and painstaking process done out of Seder's Eye Think Inc. studio near Boston.
"What I'm after is trying to create an experience which totally takes you by surprise," he said.
The relatively unknown and seemingly modern form of art isn't new at all. Seder's been working on Lifetiles for more than 20 years, inspired by toys from the 1850s called zoetropes and an active imagination as a youngster.
"I started making movies when I was 12 years old," he said, "so I was always into motion pictures and especially into optical tricks and techniques that trick the eye."
Neato!